AVENUE BLUE BAND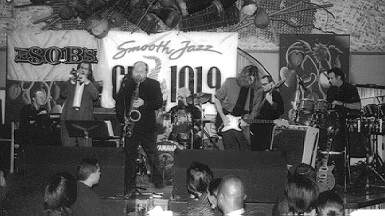 AVENUE BLUE RECORD RELEASE PARTY - SOB'S IN NYC - MARCH 1996
Info on Jeff's band members....

Since there isn't an "Avenue Blue" band any more (although you'll see most of their names listed here), I've been working with an larger group of rotating musicians. The band changes all the time which is great because it keeps things fresh. What I've done here is to make a list of the musicians that I work with regularly so if you come to a gig and they're playing or you see their name on a CD you can come here and click on their link for more info if you'd like.
They are all GREAT musicians, some with very successful solo careers so I urge you to please check out their websites.
Thanks,
Jeff

Band Members List

Drums
Steve Ferrone
Shaun Pelton
Dave Hooper
Rocky Bryant
Scoota Warner or http://www.myspace.com/skootawarner
Steve Barbuto
Ricky Lawson
Eric Valentine

Bass
Ron Jenkins
Lincoln Goines
Andre Berry
Mark Egan
Chico Huff
Alex Al
Nate Phillips
Smitty Smith

Keyboards
Mitchel Forman orhttp://www.myspace.com/mitchelforman
Philippe Saisse
Ron Rhienhardt
Clifford Carter
Brian Simpson
Steve Gaboury
Chris Palmaro

Percussion
Roger Squitero
Ronnie Guitierrez
Luis Conte

Sax
Jimmy Biggins
Dave Woodford
Bill Harris or www.myspace.com/billharrissax
Jesse J or http://www.myspace.com/jessyjsax

Trumpet
Don Harris
Steve Madeo
Lee Thornberg

Trombone
Nick Lane